Community and Business Group Volunteers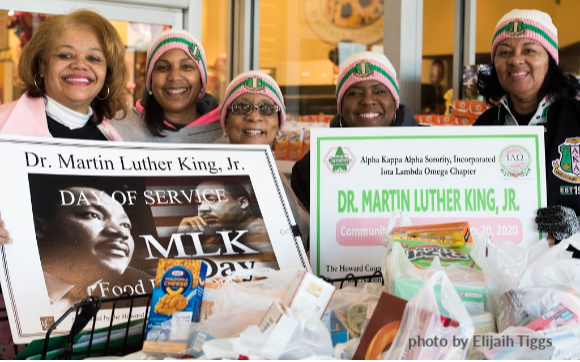 Considerations for Group Volunteering
How many people are in your group?
The larger the group, the more difficult it will be to find opportunities. Consider splitting into smaller groups, or offering shifts.
When are you available to volunteer?
Projects during the evening and sometimes even weekends can be more challenging to find as most community organizations operate during traditional business hours. You may need to be flexible with the date you'd like to volunteer also.
Consider the time of year.
If you want to work outdoors, think about what time it gets dark and the weather conditions. School holidays may also have an impact on participation or project availability.
How long do you want to volunteer for?
In our experience, 2-4 hours is the ideal length of time for group projects, particularly if the work is hard manual labor - remember, you can always go back again.
What ages are your group members?
Be sure to select a project appropriate for all members of your group.
What do you want to do?
There are many choices available to you. Think about the skills and interests of your group.
Do I have a budget to help with supplies?
If the project requires supplies, this can be very costly for the community organization, particularly when large groups are involved.
Don't be afraid to ask.
If you don't see anything suitable for your group, that doesn't mean that the opportunity doesn't exist. If you see a community organization that you are interested in helping, contact the Volunteer Coordinator and ask!
Find Volunteer Opportunities
There are several ways to find volunteer opportunities for groups. (Below this section you'll find a button to view opportunities appropriate for groups.)
► Opportunity Calendar
The Opportunity Calendar lists Date & Time Specific Volunteer opportunities (find under Find an Opportunity). Often these are events that need larger numbers of volunteers.
► Filtered Search
Search the listing of posted volunteer opportunities using Additional Filters to select opportunities that have been marked as appropriate for groups and or the appropriate age for your group. Here's how:
Click Find An Opportunity above.
In the Advanced Search section, enter the appropriate zipcode and time frame or distance if desired.

Under "Additional Filters" click the + on "Appropriate For"

Enter the age of the youngest team member if you have group members under 21 and check the box for "Groups".

Click "Refine"
► Browse Partner Organizations
If you don't see anything suitable for your group, that doesn't mean an opportunity doesn't exist. You may be able to work with an organization to create an opportunity that works for your group and the organization. Use the Partner Organizations link (under Find an Opportunity). Click column headings to sort by impact area. Click the name of an organziation to view their profile; you'll also find a link to their posted opportunities. If you find a community organization that you're interested in helping, contact the Volunteer Coordinator and ask!
► Resources
Check our Resources page for links to other organizations involved with volunteering.


Registering your group for an opportunity.
For volunteer opportunities posted on this site, creating a Volunteer Team is the best way to sign-up to serve as a group. The Team Leader registers on this site, creates the team, registers the team for an opportunity and is responsible for keeping the team informed and ensuring their attendance.
A Volunteer Team makes it easy for one person to coordinate a group that wants to serve together.

Signing up for a volunteer opportunity as a team lets the organization know how many volunteers will be serving and reserves the required number of spaces for your team.

Team members do not need to be registered with Volunteer Center Serving Howard County in order to serve with the team.

Contact information for Team Members can be either a unique email, a non-unique phone number, or a company or organization affiliation.

Team members can be individually selected when signing up the team for a volunteer opportunity.

Hours served by the team will be tracked in our system.
Step 1: Register Team Leader
Team leaders register as an individual volunteer on this site.
Leader creates a team (see below).
Leader Signs up for or Expresses Interest in an opportunity as a Team.
Step 2: Create a Volunteer Team
Be sure youare logged in.

Navigate to the My Teams page (select For Volunteers in the main menu, then My Account, then My Teams). Click on the Create New Team button.

Complete the form adding all team members and click the Create Team button.
Note: for each team member you will need either a unique email or a non-unique phone number. If a team member does not have an email or you prefer not to use it, just leave that field blank and use the Team Leader's phone number (as the method of contact). The Team Leader will be informed via their email of information relating to the volunteer opportunity. Age for minors is required.
Notes related to Teams/Groups interested in Disaster Service.

Once your team has been created you will manage the team on the My Teams page.
Step 3: Express Interest/Sign Up
Now you're ready to register your team for a volunteer opportunity listed on our site. Find your opportunity then click the "Signup (express interest) with a team" link at the bottom of the opportunity registration box. You will be prompted to select your team and then select the team members you want to sign up for the opportunity.
NOTES for Team Leaders:
If the opportunity does not have an Express Interest/Sign up with a Team link, the Team leader should use the link provided to email the Opportunity Leader and inquire about their group serving.
Make sure the organization has a way to connect with you and your team members. If you sign up team members for a volunteer opportunity but not yourself, be sure the team member has an email in the system in case the organization needs to connect with them. (If you have not signed yourself up for the opportunity the organization will not know who the team Leader is or how to contact them if necessary.)
Notes related to Teams/Groups interested in Disaster Service.
Learn about being a Volunteer Leader

at one of our free Volunteer Leader trainings held several times a year. Click here for more information.
---